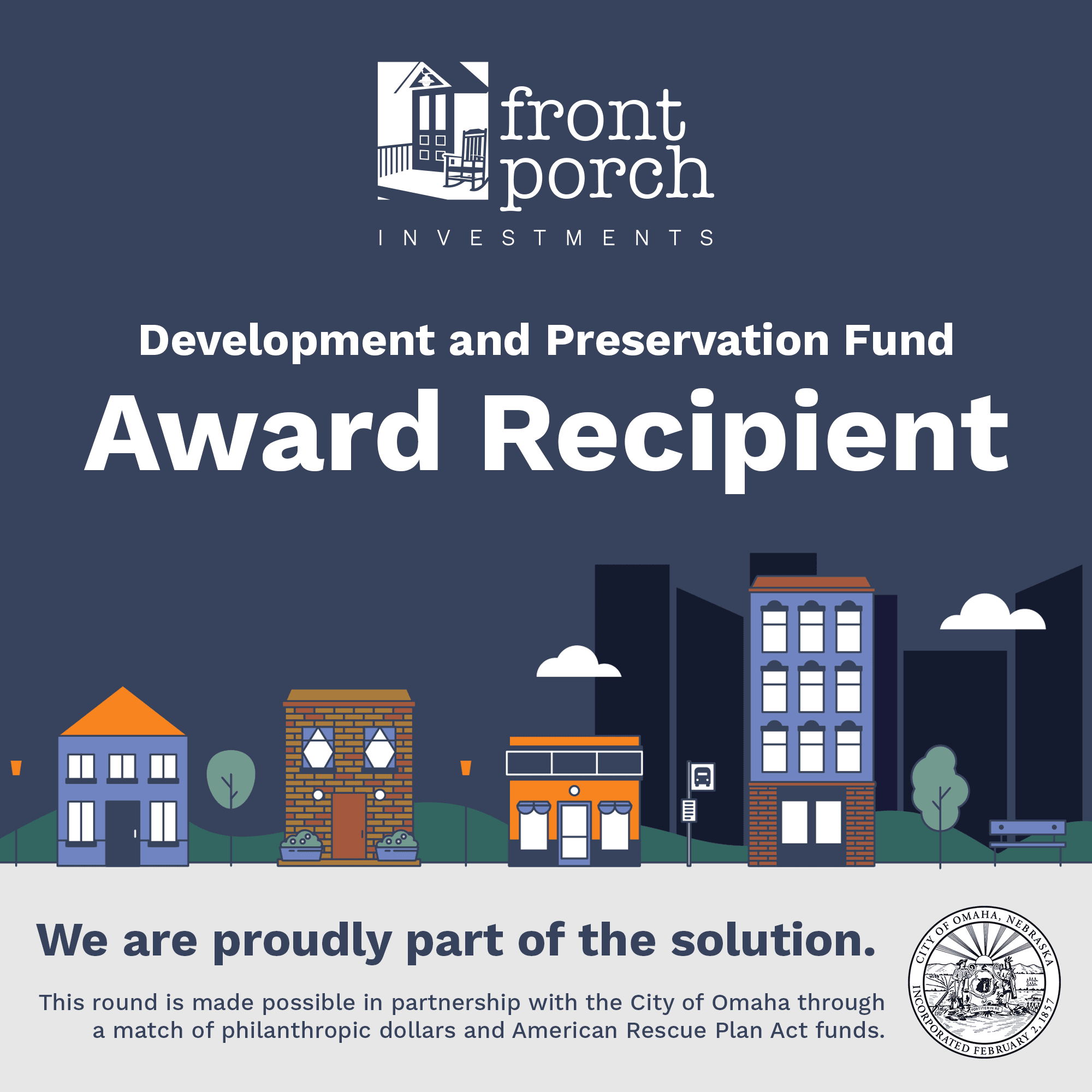 We are pleased to announce $11 million in the first round of Development and Preservation Fund awards through a partnership that matches philanthropic dollars with American Rescue Plan Act (ARPA) funds to support affordable housing development and preservation projects, as well as affordable housing supportive programs.
Funding will be distributed to 14 organizations. Projects include affordable housing for seniors, and housing solutions for youth formerly experiencing homelessness, preserved affordability in existing housing, extensive numbers of newly created affordable housing units, and the support of emerging developers while also adapting existing structures and supporting development in blighted areas.  
"We are pleased with the broad scope of affordable housing projects this funding round partnership will support. We heard Omaha residents in 2021 when they named housing as a priority. This partnership with Front Porch Investments allows us to utilize the funds available to us, impacting the community in big ways, and supports economic growth in our city," said Mayor Jean Stothert, City of Omaha.
Front Porch Investments received 26 applications, totaling $24.6 million in requests. This Fall 2022 funding cycle serves as the official launch of Front Porch Investment's Development and Preservation Fund, and the first round of ARPA funding in partnership with the City. Additional funding cycles are anticipated to open in February and August of 2023. This funding cycle includes ARPA funded loan awards of $9.7 million, and an additional $1.3 million in grant awards through philanthropic funding sources. 
A scoring committee, including representatives from the City of Omaha and Front Porch Investments' board of directors, reviewed applications based on a range of criteria. Loan funding applications went through rigorous underwriting by a funds management partner. 
By the Numbers: 
Up to 645 units of housing catalyzed  
1 new program initiated  
3 capacity building grants launched for affordable housing supportive programming  
2 planning grants supporting future housing projects for underserved populations 
 

"The impact we will see in our community from this ARPA partnership is further maximized by the opportunity to utilize the funds twice, increasing the number of projects that can be supported by these funds," said Meridith Dillon, executive director of Front Porch Investments. 

 
Loan Recipients:  
30th & Sorensen, LLC - $535,500 Acquisition and Pre-Development Loan  
AI Investment, LLC - $720,000 Acquisition Reimbursement Loan  
C & N Investments, LLC - $400,000 Construction Loan  
Lutheran Family Services of Nebraska, Inc. - $1,000,000 Acquisition Loan  
Mosaic Community Development, dba inCOMMON Community Development - $1,500,000 Acquisition and Pre-Development Loan  
Straightline Development, LLC - $1,000,000 Acquisition and Pre-Development Reimbursement Loan  
Talented 10th Group Inc. - $490,000 Construction Loan  
Youth Emergency Services, Inc. - $519,500 Acquisition Loan; $3,000,000 Construction Bridge Loan
Grant Recipients:  
Autism Action Partnership - $50,000 Project Grant  
Family Housing Advisory Services - $105,000 Program Grant  
Heartland Family Service - $199,920 Project Grant  
Mercy Housing Midwest - $500,000 Project Grant  
Metro Housing Collaborative via fiscal sponsor Metro Area Continuum of Care for the Homeless - $373,000 Program Grant  
Omaha By Design - $80,000 Program Grant 
Congratulations to all awardees! To opt in to our email list to be informed about upcoming funding cycles and updates to past awardee projects, sign up here.