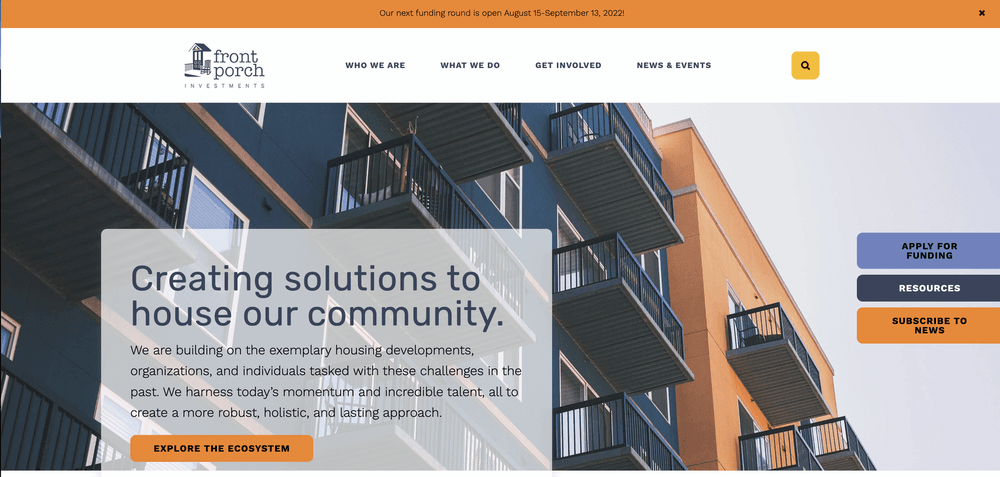 When we set out to launch the Front Porch Investments organization, we knew we would need a robust website, that served multiple purposes. As with any great solution, first you must identify the pain points! In talking with partners and other community leaders, as well as taking note of the top recurring themes in our daily work, we came up with the following six opportunities for our website to solve:
Consistent interest in our work, with requests for meetings to better explain our purpose and intended impact 
Requested "one stop shop" location for various resources, such as market analysis documents, studies, and examples of innovative work from around the country
Integrated Application Platform and information share about funding cycles
Thought Leadership and Articles (for example, What IS Affordable Housing?)
Clearly defined way to visualize the entirety of the affordable housing crisis 
Nonprofits and Developers are busy in the work, and there is not one place to showcase the "after" photos and updates of the great work being done in the community
After putting our heads together and having many conversations about how to achieve a multi-prong set of solutions, we landed on the following four foundational pillars for the website's purpose:
Legacy Capture (developments, investments, policy, etc.)
Education / Learning
Streamlines Complexity / Demystifies Housing Ecosystem  
Showcases the Midwest and "puts Nebraska (Omaha) on the map"
Utilizing wonderful examples from other parts of the country, like Family Housing Fund, Nonprofit Finance Fund, and Tower Foundation, we took explicit notes about the user experience - reviewing over 75 websites in total! 
Along the way, it became clear to us that we had six target audiences for our website. Ask any website developer, and you'll likely get the same response we did: that's too many! However, we know that complex situations require multi-pronged approaches, so you'll find that we are developing what we call "learning paths" so that you can find your own way to obtain resources, locate needed answers, and ultimately discover tangible ways you can impact the housing ecosystem for our community.
As you navigate the pages of this website, our hope is that you are excited and hopeful about the solutions we are elevating, can see yourself in the housing ecosystem, and that we've clearly articulated learning opportunities that are relevant to you. 
Some specifics we'd like to call out as priorities, as well as some items we are committed to improving:
Priority:
Interactive Data = Affordable Housing Ecosystem 
Flow, Navigation, UX - audience self-identify their path 
Improvement Needed:
Alt Text on images ... it matters a lot to us that we are inclusive in every way possible. One of those ways is through alternate text, which is how an image is identified through alternate text for anyone using a screen reader, or with vision impairment. What we know is that our team likely missed some images when adding alt text. We're working on it!
Language access ... we have requested the Google Plugin for language translation and the website developer team is working to install! We're not sure when it will go live, but it's on the way!
Learning Portal ... our team learns best when we have ample access to learning opportunities. Coming in the future will be a learning portal full of thought papers, resources, guides, and manuals that address housing stability, affordable housing, ending homelessness, and pursuing housing as a human right. In the meantime, please check out our Reading Guide!
As we launch the website, we hope to accomplish several things, for many sectors and segments of the community and larger affordable housing ecosystem. It is our intention and desire to tie together the Assessment with a clear and attainable path forward, promote hope and trust, and become the top search result when searching for affordable housing solutions in the Midwest!
Wherever you fall on the spectrum of knowledge, we are confident you'll come away from time spent on our website having learned something new! Whether you've come to be educated and learn something new about affordable housing and ending homelessness, are looking for information about our current funding cycles, wish to peruse past awardees and see completed projects, or you'd like more information about investing with Front Porch and becoming a funding partner, we are thrilled that you've landed on our site.
We acknowledge the incredible amount of work and consistent commitment from those working on these issues currently, and in the past. We will continue to work in collaboration and partnership, building on the foundation already laid, while bringing new funding sources and innovative outcomes to our community.
~The Front Porch Investments' team