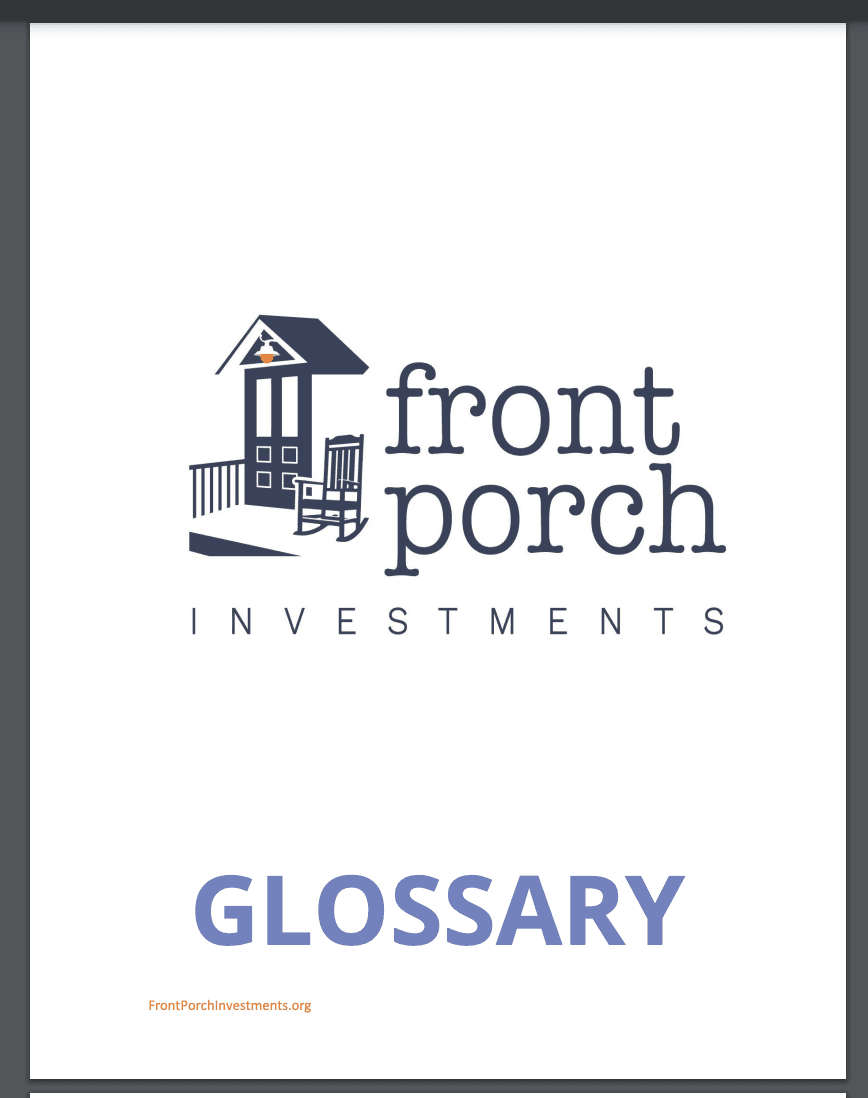 We value fostering a collaborative environment where transformative change happens. Part of that transformative change comes about when our community operates from a shared language, and a defined set of terms and words that inform our work. We are excited to share our Glossary of terms, phrases, and words that we've done our best to define. 
We know this glossary is not exhaustive, and we welcome your input if you spot something that should be included!
 
We've already covered the words and terms that fall in the A-B category!  Read that article
Next up, the words and terms that fall in the C-D category!
Note: any acronyms used throughout this Glossary will be also defined alphabetically by the phrase or word's spelling (as opposed to alphabetically by the acronym) 
Coronavirus Aid, Relief, and Economic Security Act (CARES Act) 
A $2.2 trillion (about $6,800 per person in the US) stimulus bill passed by the U.S. Congress in March 2020 and signed into law by President Trump on March 27, 2020. The CARES Act was intended to address the economic damage set in motion by the global coronavirus pandemic and included direct benefits to furloughed workers, families with children, small businesses, independent contractors and gig workers, large corporations, and the healthcare system. 
City Code  
A body of law written and adopted by a local government that defines local authority and governs certain processes in the jurisdiction. 
Community Development Block Grant (CDBG) 
This program provides annual federal funding grants to states, cities, and counties to develop viable urban communities by providing decent housing and a suitable living environment, and by expanding economic opportunities, for low- and moderate-income persons.  
Community Development Financial Institution (CDFI) 
CDFIs strive to foster economic opportunity and revitalize neighborhoods, and can be banks, credit unions, loan funds, microloan funds, or venture capital providers. They are a collaborative force that brings together diverse private and public sector investors to create economic opportunity in low-income communities. CDFIs serve as the catalyst to help individuals finance their first homes, and support community residents starting businesses, and investing in local health centers, schools, or community centers.  
Community Health Improvement Plan (CHIP) 
A long-term, systematic effort to address public health problems based on the results of CHNA activities and the community health improvement process. A plan is typically updated every three to five years. This plan is used by health and other governmental education and human service agencies, in collaboration with community partners, to set priorities and coordinate and target resources. A community health improvement plan is critical for developing policies and defining actions to target efforts that promote health. It should define the vision for the health of the community through a collaborative process and should address the gamut of strengths, weaknesses, challenges, and opportunities that exist in the community to improve the health status of that community. 
Community Health Needs Assessment (CHNA) 
A state, tribal, local, or territorial health assessment conducted by public health officials and entities that serves to identify the key health needs and issues of a community through systematic, comprehensive data collection and analysis.  
Community Investment Trust 
Real estate investment model offering residents the opportunity to purchase equity shares in a project and benefit financially from new development in their neighborhood. 
Continuum of Care Program (CoC) 
Designed to promote community wide commitment to the goal of ending homelessness; provide funding for efforts by nonprofit providers, and State and local governments to quickly rehouse homeless individuals and families while minimizing the trauma and dislocation caused to homeless individuals, families, and communities by homelessness; promote access to and effect utilization of mainstream programs by homeless individuals and families; and optimize self-sufficiency among individuals and families experiencing homelessness. 
Continuum of Care Lead Agency 
Agency or organization designated by the CoC decision-making body to submit the CoC application for funding. The CoC lead agency is responsible for the coordination and oversight of the CoC planning efforts and has the authority to certify and submit the CoC homeless assistance funding application. 
Cost-Burdened 
Those who pay more than 30 percent of their income for housing and may have difficulty affording necessities such as food, clothing, transportation, and medical care. Severe rent burden is defined as paying more than 50 percent of one's income on rent. 
Department of Economic Development 
The state agency that partners with various other departments, such as the Nebraska Commission on Housing and Homelessness, the Nebraska Investment Finance Authority, Nebraska Department of Labor, Nebraska Department of Health and Human Services, US Department of Agriculture – Rural Development and HUD on programs and initiatives, including those related to affordable and accessible housing for Nebraskans with disabilities. 
Developer  
Developers build structures in an area. They can be for profit or nonprofit entities. The city works with the developer to ensure compliance with ordinances to foster development in alignment with other guiding plans. Developers assemble the land, obtain the financing (usually including subsidies from the government), and hire architects and contractors to build (or rehabilitate) a building.  
~

Note: We value learning at Front Porch Investments and prioritize opportunities to continue our learning path. We will update this Glossary as we expand our awareness and seek to be as inclusive as possible! On that note, what did we miss? Email us at FrontPorch@OmahaFoundation.org to let us know what terms, words, or concepts we need to add to our Glossary! 
To read the other segments of our Glossary, visit the Words Matter series.